Here it is everyone. The A3 Tim Vine 2021 Calendar your kitchen wall has been begging you for. Now in new exciting 14 month edition! 14 fantastic glossy pictures of Tim (15 if you count the cover) and includes Tim's handwritten comments scattered throughout the year.
Cost is just £10 plus postage and packaging and every penny of that £10 goes to the Cure Parkinson's Trust to help their brilliant quest to rid the world of Parkinson's disease once and for all.
Merry Christmas everyone and a very very happy 2021 to you all. Keep making each other laugh and I'll see you soon.
Love from Tim.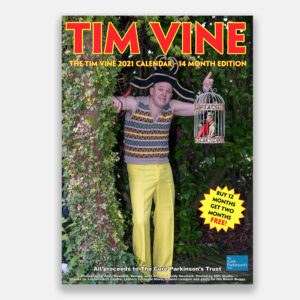 Go to Shop